STOP GUESSING!
And start investing in personalized fitness & lasting wellness with a
proven program
that levels up both your body and mind!
"It's helped me lose 15 pounds. I'm so grateful that it helped me take that step that I so desperately needed." Nancy
"I've lost about 13 pounds, sleeping better ,and feel great now that I'm paying better attention to all the things I do." Matt


"I lost 10 pounds, sleeping great, and my energy is through the roof." Tracie
It's worked for me and I feel like it can keep working for me for that goal of mine that I've been trying to reach for the past 20 years." David
"Finally, a doable, "small ways, every day," total lifestyle approach to fitness that strengthens and elevates both body & mind." Leah
Join Andrea Marcellus as she guides you through a 6-Week program to help you drop unwanted pounds, gain strength, sideline stress, and put you back in charge - both physically and mentally.
The ONLY total lifestyle program of its kind, Shape Up: Body & Mind works because it goes beyond food and exercise, to help you with stress management and life purpose - key factors in staying motivated and on track no matter what life throws your way.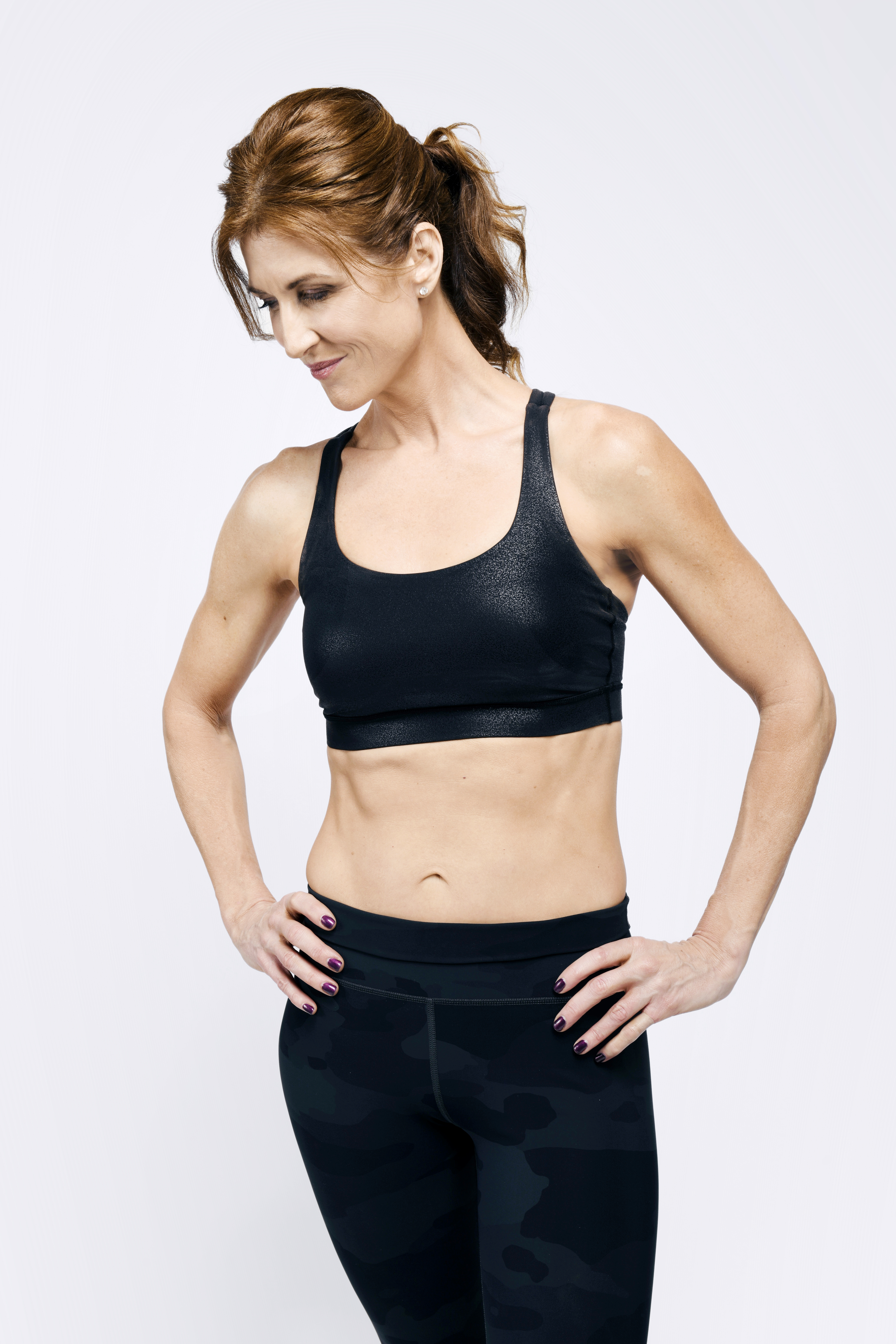 PEOPLE ARE OBSESSED WITH THE WAY IN: SHAPE UP!!
Don't take our word for it. See for yourself why Andrea Marcellus' positivity-driven, shame-free approach to weight loss and overall wellness is the breakthrough you need to level up, both physically and mentally!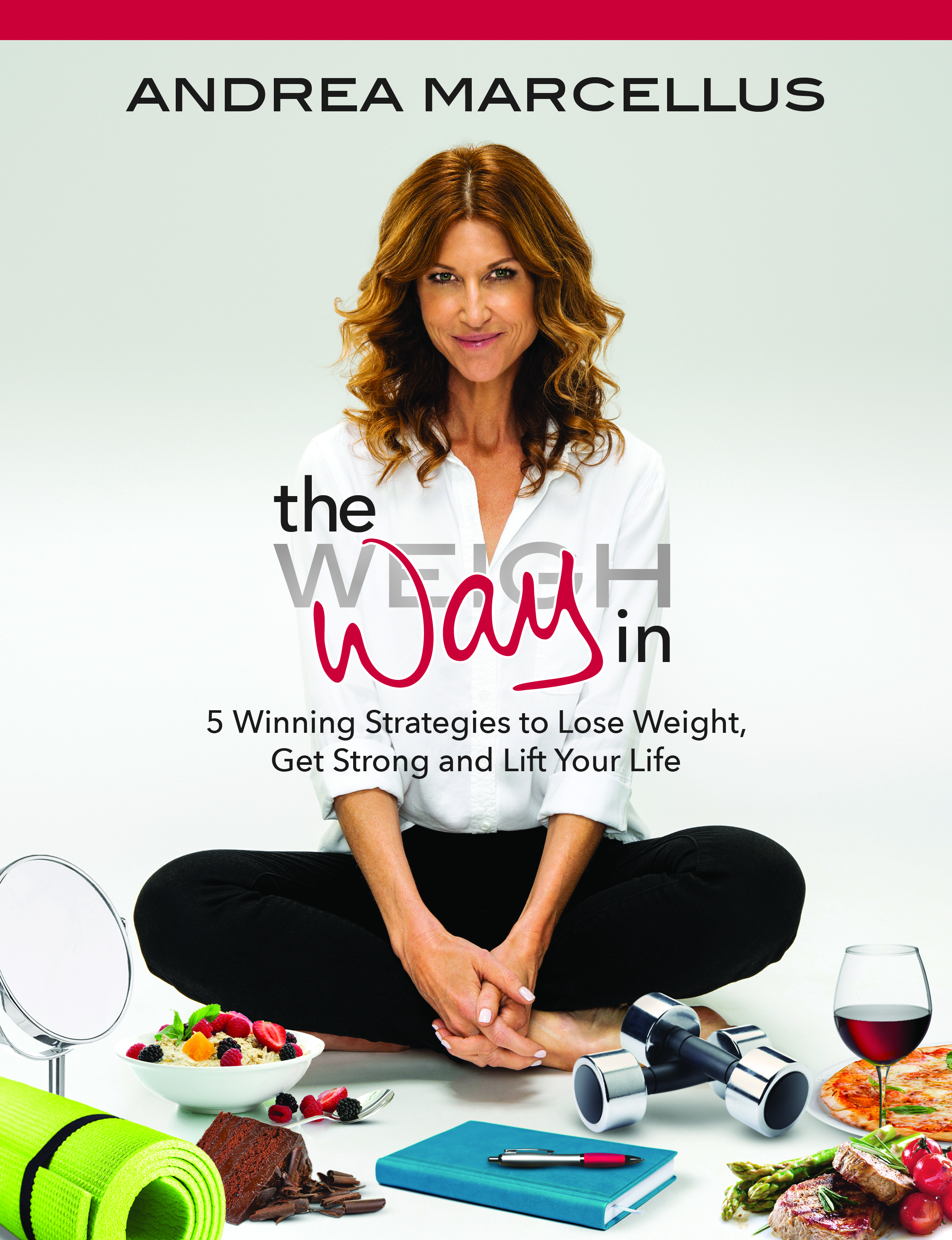 Go at your own pace with this 6-week course designed to put you on the road to your best self!
Doable daily goals fit smoothly into your already overloaded life, and real-world stress management solutions keep you from being derailed.
Based on the 6-Week Shape Up in Andrea Marcellus' top-rated book The Way In: 5 Winning Strategies to Lose Weight, Get Strong and Lift Your Life, this program will guide you to easily lose unwanted pounds, gain strength, and feel more in charge of yourself - both physically and mentally.
Speed your progress with extra videos packed with Andrea's top secrets for lasting fitness regardless of time and motivation!
Lasting fitness is powered by purpose. Exclusive extra videos and handouts based on Andrea's 30 years of experience lifting lives will not only help you set program goals, you'll get your life on a more fulfilling course as a whole.
DITCH DIET CULTURE
enjoy ALL foods you love

with calorie-free portioning
DISCOVER NEW WAYS TO WORK OUT
strengthen both physically and mentally

with Andrea's unique classes
TOTAL LIFESTYLE APPROACH
master stress

with self-discovery exercises and short, brain-training classes

clarify goals, both short and long term,

to help you stay motivated and forward-focused
Need the full-color workbook edition of The Way In? Get 30% off the cover price at andlife.com!
Andrea Marcellus' realistic 4 Daily Goals method helps you get in shape, generate energy, and reduce stress for the long haul.

WHAT DO I GET
7 Master Class videos to set weekly program goals and keep you inspired
5 "Self-Discovery" videos to clarify life goals & combat stress
8 Life Strategies videos to inspire your journey
12 "Cheat Sheets" to help you fast track food choices
3 Stress Intervention Videos
Progress Worksheets from The Way In
Membership to Andrea's exclusive online Forum

WHAT WILL I LEARN
Your optimal food schedule & portion "code"
How many social foods & drinks you can "get away with" weekly
Quick "go-to" recipes that boost energy
Exercise strategies that get results in minimal time
Life hacks to handle & avoid stress
Who you are & how to maximize your time
Your stress management "Super Powers" - yes, you have them!

WHAT DO THE VIDEOS COVER
Walk-throughs for each week's program goals
Fun, no-time nutrition lessons & recipe demos
Exercise know-how to achieve better results in less time
Short, "plain clothes" workouts for busy days

WHAT ARE SOME SECRETS I'LL GAIN?
Ditch calorie counting & "make friends" with food
Eating rich foods is a MUST for long term fitness
Your plates and glasses are preventing your success
Working out too hard derails your fitness goals
REAL PEOPLE TALKING REAL RESULTS: 
"I love EVERYTHING that Andrea and her And/Life method/lifestyle stand for: eat real, whole foods, enjoy your favorite treats, work out in small bursts instead of long, agonizing sessions (unless that's something you truly enjoy)"   Tina F.
"It's so simple, and so easy to follow, anyone can do it and the results are real!" Jeff
"I lost 3 pounds in the first week, but even more than that, I had a massive increase in energy and didn't feel bloated." Nicole
"We all have the power within us to do it, it's just a matter of breaking those bad habits. And this is an easier way to break those bad habits." Sean
"No deprivation, no pressure to be perfect. Follow a few simple strategies and learn what works for you, and you're on your way to living without worrying about dieting or feeling guilty." Leah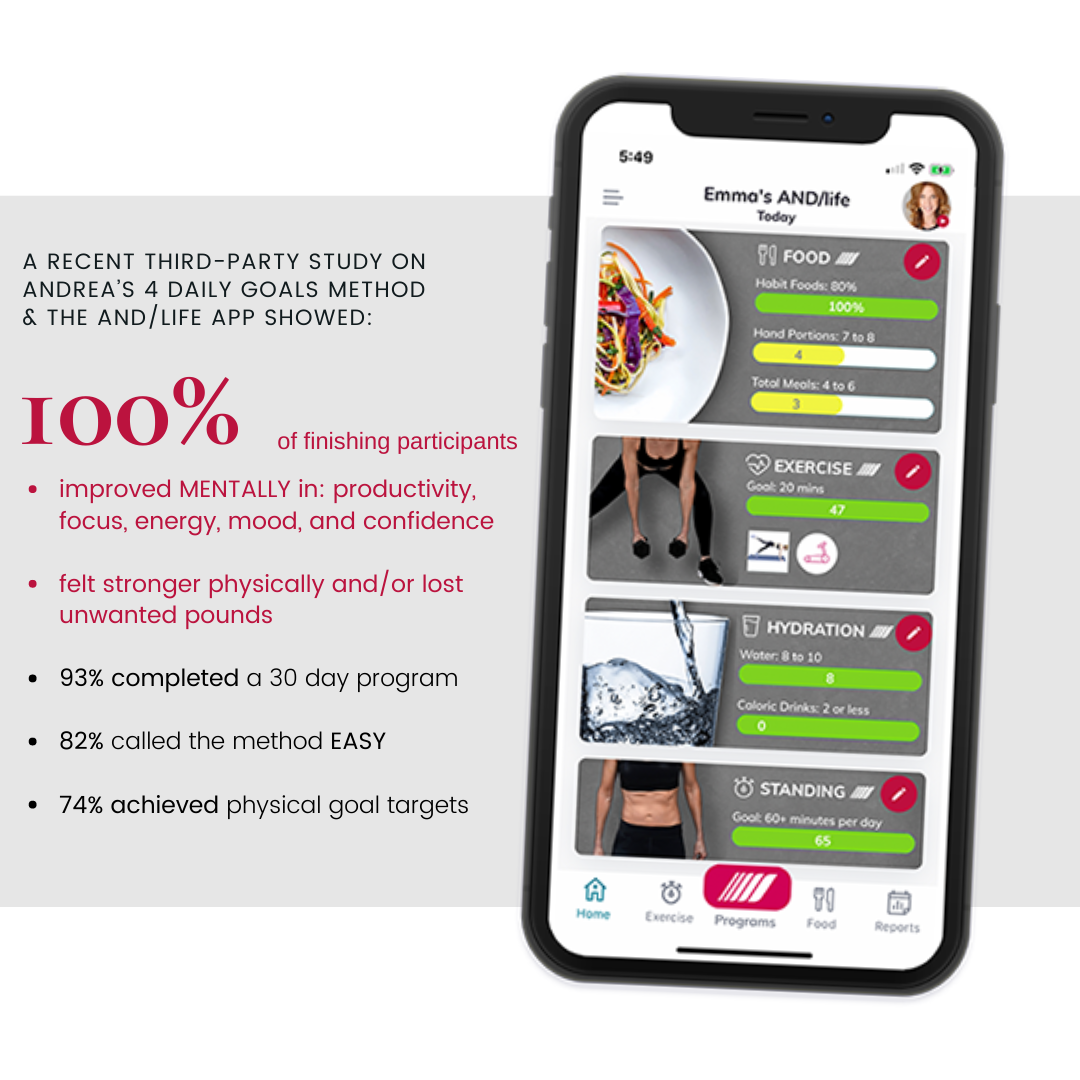 ACT NOW! BONUS OFFERS
Need a little more motivation? We've got your back.
Receive a coupon for 30% of ANY COURSE with your purchase of this menu!
Check your inbox to confirm your subscription